Interview with "FAME" Star Kay Panabaker: Few weeks ago I was given an incredible opportunity to interview actress and FAME star Kay Panabaker. It was such pleasure chatting with Kay over the phone. She came across as extremely intelligent, witty, and very dedicated young woman. She completed her BA in History from UCLA before she turned 18! And, she is beautiful. Watch out Hollywood!
Kay gave me the biggest compliment: "Thank you for an intelligent interview and questions. I'm not used to those. I'm used to 'What's your character like' and 'Whose the most famous person you have in your cell phone'. I appreciate this interview, it was great."-Kay Panabaker.
Thank you Kay!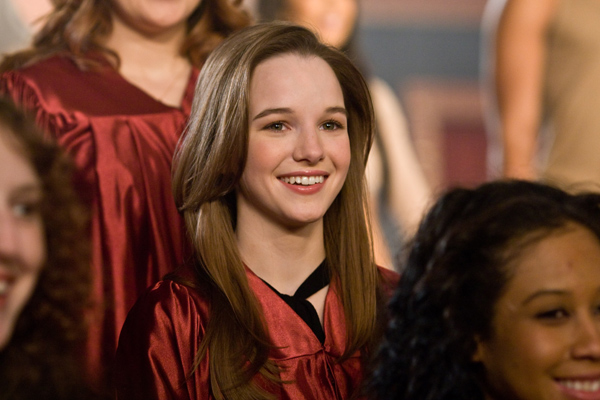 Kay Panabaker plays the role of "Jenny" in the upcoming film FAME, a movie based upon the 1980 film which follows NYC talent attending the New York City High School for the Performing Arts, (Known today as Fiorello H. Laguardia H.S.) The Movie "FAME" is in theatres September 25th, 2009 (USA).
I caught up with Kay one afternoon this summer to chat about her love for acting. Her charcter "Jenny" in the upcoming film "FAME". How she finds the balance between life and an acting career. Kay even reveald to me what's in her makeup bag and future plans.
Marta Walsh: Why have you decided on a career in acting? How did it all began for Kay?
Kay Panabaker: My sister (Danielle Panabaker) and I kind of fell into acting. She and I used to do the same activities, like dancing. We would then take the same dance classes, and then the same print work and commercials. That was back in Georgia. When we moved to Chicago we started to do more theatre. One of our agents then recommended that we should move to LA. My mom was very skeptical. She told us it was a crazy idea and that we will never make it. So in a way I fell into acting, but I've been loving it pretty much from the beginning. When I was 10 I hardly even watched TV, so I don't how I discovered the love for acting and movies.
MW: How do you find the right balance between school and enjoying life as a young woman and at same time working in Hollywood? What advice can you give to young aspiring actors and actresses?
KP: School and education are very important to me and I believe it is possible to do both. Just because you want to be an actress doesn't mean you can't go to school. I started community college when I was 13. I used to go to work during the day and go to school at night. I would do my homework in whatever spare time I had. Sure there is a sacrifice. I gave a bit on a social life but I made it work, and I'm so thankful that I did. I now have a degree I can fall into. I have more options. I got my degree so young I can even still go back to school if I decide do. There is nothing I can't do!
MW: What attracted you to Jenny's character in the movie FAME? What was it like playing her role?
KP: FAME was an amazing opportunity for me. Jenny and I have our similarities and differences. She and I are both very dedicated. She does her homework as soon as she gets home. As she spends more time with Marco, a character played by Asher Book, she realizes than she needs to also enjoy the journey and her craft. Do the hard work but enjoy doing it at the same time.
MW: Did you have to watch the original TV series or movie Fame as a research for your character?
KP: I don't think we had to. The concept of FAME is timeless. Our issues in this film are similar to the "old" FAME but are more current and relevant to our time. The film is simply adapting to what the concept fame means today to our generation. Whether you are a YouTube star, a celebrity in the tabloids, or successful in whatever you do in life. The struggle is still the same. The film also shows that there is hard work that goes into Fame or being good at what you do.
MW: What was it like working on the set with your co-stars?
KP: We all come from different backgrounds. Some of us have been acting a long time, some of us haven't. Some had a dancing background and not acting. It's fascinating for me as an actress to watch how others approach acting and what they bring to the film. I loved everybody. We all put our 150% into this film and still managed to have fun with it. We enjoyed the journey, got to know one another, worked hard and hoped for the best.
MW: Which actors or actresses do you look up to, if any?
KP: I like actors that are versatile. I like Julia Roberts and Reese Witherspoon.
MW: What's next for Kay Panabaker?
KP: This summer I did an independent film where I play a pregnant girl, I don't know if it will go anywhere, but it was a great way for me to stretch or challenge myself as an actresses. Really, I don't know what's next, I'm just trying to take things day by day and enjoy life for what it is.
MW: What's in your makeup bag right now?
KP: My makeup is sporadic, I like everything that makes me feel fresh and I love color! You will find lots of eye shadows by Stila. I don't wear them every day but when I do I like to play around with them. For my foundation I use Bare Escnetuals, it's a great foundation: I don't feel my makeup is on, and I can sweat and it's not going to drip off. I also have BADgal Lash Mascara by Benefit in my makeup bag.
MW: What's in Kay Panabaker's shower?
KP: I use the John Frieda color collection. I have the John Frieda Luminous Color Glaze in red, brunette, and blonde because I have all these colors in my hair.
MW: Have you decided on which hair color is best for Kay?
KP: I hate dying my hair, I don't like all the chemicals. So for me it's natural hair with a little a bit of sun kissed highlights.
MW: What are some of your beauty secrets?
KP: Less is more. I don't wear a lot of accessories or makeup in everyday life, just on the red carpet. I like to feel comfortable.
MW: What is your favorite city in the world?
KP: Chicago, and anywhere in Italy.
MW: Which clothes you just can't live without? What is your day to day "uniform"?
KP: It's summer now and I'm still wearing jeans. I also like to wear sandals to show off my painted toe nails. I wear Converse or Vans. And you will also see me in a T-Shirt, plain or with some kind of message printed on. And I like a sweater or sweat-shirt when it gets a little chilly.
MW: What one or two things some people may not know about Kay Panabaker?
KP: Many people ask me what am I doing for school and little they know that I've already graduated UCLA and that I've been there done that.
Visit FAME official movie site to meet the cast and to watch the trailer: http://www.generationfame.com/