Vanessa Williams doesn't need too many introductions but here is why she is so great: Vanessa is a singer, songwriter and actress. She made history on September 17, 1983 when she became the first woman of African descent to be crowned Miss America. Williams then launched a career as an entertainer, earning Grammy, Emmy, and Tony Award nominations.
Vanessa Williams is also known for her role of Wilhelmina Slater on the hit TV series: Ugly Betty which has been renewed by ABC for a fourth season, and will air on Friday nights at 9:00PM Eastern/8:00PM Central starting Friday October 9, 2009.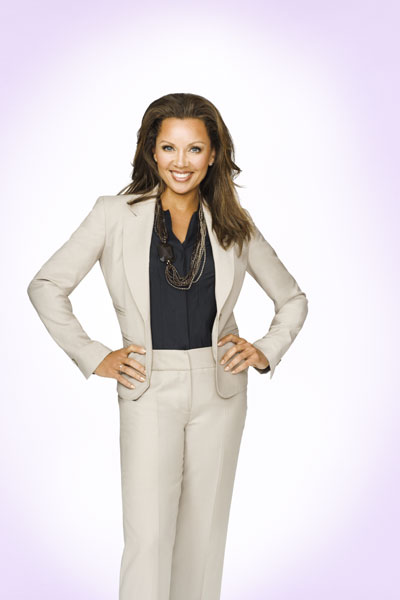 In this interview Vanessa Williams talks to Marta Walsh about the BOTOX® Cosmetic: Express Success" campaign. Gives advice to women considering BOTOX® Cosmetic for the first time. Lists her favorite skincare products for face and body. Gives us a sneak peek into her makeup bag. And shares some of her future projects.
Marta Walsh: What is the most memorable moment of your career?
Vanessa Williams: It would have to be my opening night on Broadway "Kiss of the Spider Woman" (1994). As a musical theater major, it was the ultimate success!
MW: When did you first become interested in BOTOX® Cosmetic?
VW: Six years ago, I noticed fine lines developing between my brows that made me look stressed, so I spoke with my dermatologist about my skin care routine and non-surgical options. Together, we decided that BOTOX® Cosmetic was the right option for me. It's a quick treatment, and my natural looking results last up to four months!
MW: How do you feel BOTOX® Cosmetic changed the appearance of your skin?
VW: BOTOX® Cosmetic helped to reduce the "11" lines between my brows.
MW: What advice can you give to women who are considering BOTOX® Cosmetic for the first time?
VW: All women – and men! – who are considering treatment with BOTOX® Cosmetic should speak with a licensed, experienced physician whom they trust. Our faces are dynamic and expressive, so it is important to speak with your physician to discuss your expectations. To find a physician in your area, visit www.ExpressSuccessCampaign.com , click on "Is BOTOX Cosmetic right for me?" to find a doctor in your zip code.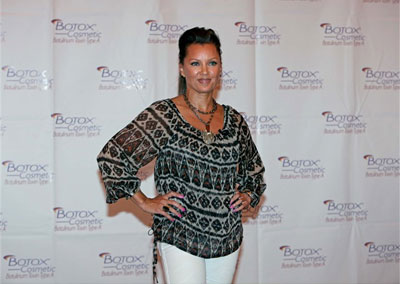 Vanessa Williams poses at the "Express Success" Rack Relay Race charitable education program in New York's Grand Central Terminal Tuesday June, 30, 2009 benefiting the not-for-profit Dress for Success organization that helps disadvantaged women succeed in the workforce.
(David Goldman/AP for Chandler Chicco Agency)
MW: What compelled you to team-up with Allergan, Inc. with their "BOTOX® Cosmetic: Express Success" campaign?
VW: I've made no secret of the fact that I am a fan of BOTOX® Cosmetic. So when Allergan – the maker of the product – asked me to join them and Dress for Success for this campaign, I jumped on board.
To honor working women, Allergan is donating a quarter of a million dollars to Dress for Success to help provide economically disadvantaged women with the tools they need to enter the workforce with confidence.
Also, through the "BOTOX® Cosmetic: Express Success" campaign, we will be educating women about BOTOX® Cosmetic at several community events around the country and supporting Dress for Success. I invite everyone to go to www.ExpressSuccessCampaign.com and come out to one of our community events where the cost of entry is simply a donation of nearly new professional attire for Dress for Success.
If you aren't in one of the local markets, know that up to $50, 000 of the total $250, 000 donation will be generated through an online drive, with Allergan donating $2 to Dress for Success for each of the first 25, 000 consumers who visit and register on the web site.

Vanessa Williams, right, and Dr. Doris Day, grab a donated blouse off a rack to dress a mannequin as they participate in the BOTOX Cosmetic: Express Success Rack Relay Race Tuesday June, 30, 2009 in New York's Grand Central not-for-profit Dress for Success organization that helps disadvantaged women with donated clothing for the workplace. (David Goldman/AP for Chandler Chicco Agency)
MW: Why is it easy for you to be honest about incorporating BOTOX® Cosmetic into your skincare regimen?
VW: I don't see any reason to be secretive. As an actress, I'm often asked about products I use to maintain my appearance. I love my results from BOTOX® Cosmetic treatments — so why wouldn't I share that with other women? There have been more than 20 million treatments in the U.S. since its FDA approval in 2002, and I think we all should feel free to talk about it!
MW: Aside from BOTOX® Cosmetic, what are some of your favorite skincare products for face and body?
VW: Perfekt tinted skin gel, which creates a great natural appearance; Mila Moursi moisturizing oil; and Proactiv deep cleansing wash.
MW: What can we find in Vanessa William's makeup bag?
VW: My favorite eye brow pencil is a Japanese brand that has a screw tip, so it doesn't need to be sharpened.
MW: What is your favorite lip gloss?
VW: MAC Cosmetics lip gloss in "revealing."
MW: What is your favorite shampoo & conditioner?
VW: Acquage moisturizing shampoo and conditioner.
MW: What are one or two things some people may not know about Vanessa Williams?
VW: I really love cars – sport cars with leather seats. Also, on the weekends I love to listen to Irish music! I've actually incorporated some of these sounds into my new album "The Real Thing" with Concord Records.
MW: What's next for Vanessa Williams?
VW: Well, as part of the "BOTOX® Cosmetic: Express Success" campaign, I'll be hosting local events in San Francisco, Dallas and Miami. If your readers live one of those cities, they can RSVP to attend at www.ExpressSuccessCampaign.com
Also, we are getting ready to film season four of Ugly Betty, which is moving to Friday nights. I'm looking forward to filming the musical episode later this year. Also, I will be on tour for my new album – check out my Web site for upcoming tour dates!
It was a pleasure to interview Vanessa Williams, you can find out more about Botox Cosmetic at the official website: www.botoxcosmetic.com
also check out the Vanessa Williams official website: www.vanessawilliams.com
Average Rating:
4.4
out of
5
based on
214
user reviews.