Steven Lake is a top hair stylist to the stars.
Steven Lake has recently styled Carmen Electra for her Playboy cover. Other celebrities Steven Lake styled include: Christina Ricci,  Brooke Burke, Stacy Keibler, Emilie de Ravin from the TV show Lost, Olympic gold medalist Nastia Liukin, and Rosalyn Sanchez.

Steven Lake with Olympic gold medalist Nastia Liukin.
Steven Lake can also be seen in Nikon's newest how-to webisode series called "Look Good in Pictures with Carson Kressley." Carson has been guiding viewers through different scenarios, showing them how to shoot, pose and shop to look the best in photographs.
Steven Lake as he appears at Nikon's Look Good In Pictures with Carson Kressley:
I actually had the amazing opportunity to interview Stylist Steven Lake. Here it is:
Marta Walsh: When did your fascination for style begin?
Steven Lake: It began early. When I was a kid my mom worked as a Mary Kay director. I would carry her bags and go with her to women's houses. I watched as she educated women on how to wear makeup to enhance their beauty and give them confidence. I also remember being in high school and the girls would show up in the fall with new hair do's. Some completely reinvented themselves. I remember thinking "wow" how cool!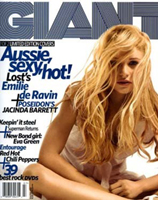 MW: What was your first big break as a stylist?
SL: When I first moved to LA I stopped doing hair for awhile but would still cut friends hair on the side. I was at a magazine party and the owners of the magazine were commenting on my friend's haircut. When they found out I did it they asked me if I'd be interested in doing a photo shoot for their magazine. Of course I said "sure"! (I had never done a shoot before and had no idea what to expect.) I showed up on the shoot to find a top photographer, makeup artist and stylist. Then…in walks Christina Ricci. Wow! Intimidating? Yes! Right place, right time I guess. I was very lucky!
MW: Your runway, editorial and celebrity portfolio is endless. What were some of your most memorable collaborations?
SL: My most memorable collaboration was with Creamsilk by Unilever in the Philippines. Check it out!!! Go to… Steven Lake Creamsilk or go to Steven Lake Creamsilk on www.youtube.com, I had a blast!
MW: Which celebrity would you love to style in the future?
SL: Brittney Spears of course!
MW: What projects are you working on these days and what's next for Steven Lake?
SL: Tomorrow I am working with my client Brooke Burke for The People's Choice Awards. She just won Dancing With The Stars! Yeah! My client Sara Bareilles just got nominated for a Grammy and we just shot her new video. Also my client Carson Kressley (of Nikon's Look Good in Pictures) will be keeping me busy this year, I'm sure. I love working with him!
Average Rating:
4.4
out of
5
based on
223
user reviews.