I'm so excited to share with you my interview with an Olympic Ice Dancer Tanith Belbin! I love watching figure skating and ice dancing therefore interviewing Tanith is a dream come true.
Tanith Belbin is a Canadian-American ice dancer. Though she holds dual citizenship, she competes for the United States and has competed for the U.S. since she began skating with Benjamin Agosto in 1998. With Agosto, Belbin is the 2006 Olympic silver medalist, four time World medalist, three time Four Continents champion (2004–2006), and five-time U. S. champion (2004–2008).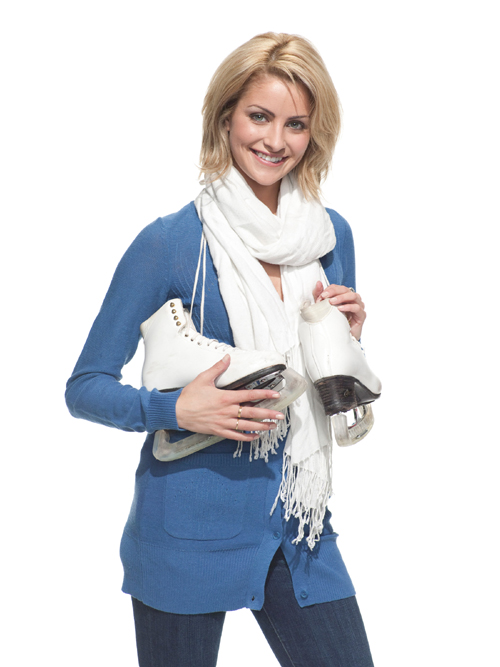 Photo credit: NBC Sports / USOC
Tanith Belbin was born in Kingston, Ontario and raised in Kirkland, Quebec. She lived and trained in Canton, Michigan for many years, before moving to Aston, Pennsylvania to train at Ice Works. Belbin's mother, Michelle (McKinlay) Belbin, is a costume designer and she makes some of Belbin's costumes. She trained as a figure skater in St. John's, Newfoundland.
In this interview Tanith Belbin talks to Marta Walsh about when and how she has discovered the love for ice dancing. How does she find the right balance between a busy career and normal life. Gives advice on what does it really take to become a successful ice dancer. Reveals what's in her makeup bag, favorite city, and future plans.
Marta Walsh: How did you discover your love for ice dancing and what were some of your greatest achievements in your career?
Tanith Belbin: I began skating with the intention of becoming a singles skater but because of my body proportion (thin, long legs), I was placed with a dance partner when I was 8 years old and fell in love with the element of interacting with another person on the ice. I am a performer and dance offered the greatest outlet for my creativity and desire to portray different characters in a program. Since finding my perfect partner in Ben, I would say the most satisfying moment in our career for me personally was when we won our first National title. To be able to say that you are the best in the country at something you've dedicated your life to is incredible. Now, on to the world!
MW: How do you find the right balance between your busy career and normal life?
TB: We, as competitive skaters, lead very A-typical lives and it can be difficult to keep things in perspective sometimes in terms of "the bigger picture". This bubble we live in can be judgemental and superficial, and very tiring on a young person's confidence. I've found the most important thing for me to do is keep my family and best friends as close to me as possible and remember the kind of person I am and want to put out into the world. It's too easy to get caught up on think that our placement at an event determines our worth and what we'll be able to achieve in the future. Spending an adequate amount of time away from the rink and not talking about skating is key to maintaining a good mental balance.
MW: What are some of the lessons and disciplines ice dancing has thought you as a person?
TB: I was never the most talented figure skater. I lagged behind my peers in group classes when I was a child, and struggled in dance class to be graceful, but the reason I've been able to succeed is because I am driven and I have high expectations for myself. Ice dancing is a challenge that brought all my ambition and competitiveness to the surface, and the discipline required to reach the level I have is something I will take with me and apply to all future endeavors. You can't reach the top without passion, confidence and determination. I believe those qualities will help drive me to a successful career in any field.
MW: What does it take to succeed as an ice dancer? What advice can you give to anyone interested in this career?
TB: To reach the top in any sport you need to have a clear goal identified, and the willingness to make sacrifices for it. Some days it can definitely feel that you've completely lost your drive and direction, but remembering that goal and what you set out to accomplish is all you need to accept that you had a bad day, and prepare to make the next one better.
MW: What is next for Tanith Belbin?
TB: The scariest…and most exciting question I can ask myself at this stage in my life is; what's next? Truthfully, I have no idea! If I try to plan it, I get stressed and feel out of control because so much of the next year will have to do with our outcome at the Olympics and our feelings once we've completed the season. My partner and I both feel that the time has come for us to make a change and transition into another phase of our lives. We are so anxious to see what other adventures the world has in store for us beyond skating, but at the same time we don't want to feel pressured or rush our departure from the competitive world if we still have more we feel that we want to accomplish. Whenever that day comes however, I hope to pursue a career in broadcasting and journalism. Whether that begins with opportunities that come up after the Games or with enrolling in university, only time can tell. Either way, it's a very exciting time to be me!
MW: What is your signature fragrance?
TB: My signature fragrance is Bvlgari Rose. I've been wearing it for so many years I don't even smell it on myself anymore but my friends always know when "Tanith's been here". It's definitely my signature scent.
MW: What's in your makeup bag?
TB: In my makeup bag I always have my Cover Girl: lash blast length mascara and outlast lip stain. When you're training and sweating all day, less is definitely more in terms of makeup! All I need to feel fresh is a little pop of color on the lips that wont stick to my hair while I skate and a nice lengthening mascara to open up my eyes.
MW: What's in your shower?
TB: Right now I'm obsessed with the Olay body wash with body butter ribbons! Not only does it hydrate my skin, which I definitely need after all the hours I spend in the freezing rink temperatures, but it smells amazing!
MW: What is your philosophy about beauty?
TB: I think the most beautiful thing a woman can put on her face is a genuine smile.
MW: What are your favorite beauty treatment destinations?
TB: I love going to the salon and getting my hair done. I used to be scared of it because I dye my hair blonde and it always got so damaged with the color treatment, but since I've started using better shampoos&conditioners like Pantene's restorative line and my hair is so much healthier. Now I can just relax and enjoy being pampered!
MW: Who are the Celebrities that inspire you with their talent and beauty?
TB: I'm a big fan of fashion and people who use their image as a way to express their personal style while still looking really comfortable in their own skin. I love actresses like Sienna Miller, Natalie Portman, and Diane Kreuger who are bold with their fashion statements yet always looks so effortlessly beautiful.
MW: Which city do you love the most?
TB: My favorite city is probably Paris. I speak french from growing up in Montreal so I feel comfortable with the language and the richness in culture is so stimulating. I feel like become more relaxed and more creative when I spend time there.
MW: What one or two things some people may not know about Tanith Belbin?
TB: I'm a huge romantic and I believe the ultimate satisfaction in life is finding someone to connect, and share all your experiences, with….. also, I hate tomatoes, am deathly afraid of clowns or anything in a mask, and know how to spell my name in morse code (kind of sounds like la cucaracha).
For more information about Tanith and the rest of the US team, go to nbcolympics.com
Average Rating:
4.4
out of
5
based on
184
user reviews.