I'm excited to share with you my interview with Amy Bailey who has begun to make her mark within Hollywood's demanding movie stars. Amy can be seen in the star-studded movie, "Nine" along side Nicole Kidman, Penelope Cruz, and Kate Hudson. Up next for the actress, she will be playing the Hatteress in Tim Burton's "Alice in Wonderland."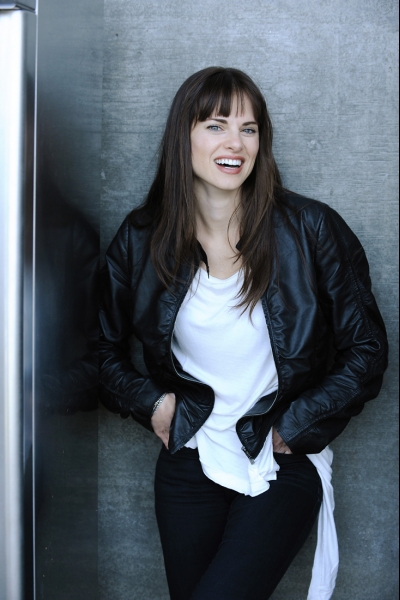 In this interview Amy Bailey tells Marta Walsh about how it all began for her in Hollywood. Her role in the film "Nine" and what was it like working with its director Rob Marshall. How one day she took Penelope Cruz and her sister to see the Royal Ballet perform. Her latest acting role in "Alice in Wonderland", also staring in this film Johnny Depp. Future plans, and of course, style and beauty secrets!
Marta Walsh: Where did you grow up and where is home for you?
Amy Baliey: I grew up in a coastal town called Corpus Christi, in South Texas. I loved going to the beach right after school. Now I divide my time between London and L.A.
MW: How did you decide on a career in showbiz, and what were some of your first breaks?
AB: I was a professional ballerina by 17yrs old, so I guess being onstage always felt pretty natural. My parents couldn't believe that as a teenager I would skip out parties because I had ballet class the next morning. It kept me out of trouble, for the most part 🙂
Three years ago I decided to transition to musical theatre and was fortunate to land my very first audition. It was understudying "Ulla" in "The Producers" – a big West End show in London. The casting team took a chance on me that I could do the lead as a singer and I was thrilled to rise to the challenge. Right after that show I got the lead role in "Oklahoma", so I feel grateful that people believed I could make the transition.
MW: How did you land the role of Guido's Showgirl in film "Nine"? What was it like working with director Rob Marshall and the rest of the cast?
AB: "Nine" auditioned thousands of girls from London, LA, NYC, and Rome. We had over 400 people in my audition and it was a grueling 2 days of elimination rounds. It was nerve-racking – everyone wanted to be in this movie and we all knew there were only a handful of spots available.
When I got the call from my agent I was in a library but I still squawked outloud. We filmed for 5 months in London. Rob Marshall is incredible. Very zen but totally in control of his vision. I think Catherine Zeta-Jones was quoted as saying she would read the phonebook for Rob and I am inclined to agree!
We had loads of rehearsals and I got to work very closely with our stars. Funnily enough, they were more nervous than we were as they all had to sing and dance. Daniel told me he was "terrified" of the dancing! You never imagine someone like Daniel Day-Lewis being scared of anything, but they were all working so hard to master things that I've been doing since I was 5. It's all about perspective, I guess.
I loved seeing the "real" Nicole, Penelope, Kate, Daniel etc. These actors are so famous that they can't do the things all of us take for granted. I took Penelope and her sister to see the Royal Ballet perform, and in public she was gracious, but she had to be much more guarded because everyone was gawking at her. It was interesting seeing both sides of fame.
MW: What have you learned from your acting role in "Alice in Wonderland"? Did you get to meet Johnny Depp (you know, it's a dream of mine)?
AB: Acting in "Alice" was a new experience for sure! We were basically acting to nothing as the sets are all CGI. It's a very good experience though – you really have to use your imagination, but then be consistant for the many takes. At times it was chaos. We would role and then Tim would have to yell "Cut!" for the 10th time because someone had run through the imaginary unicorn. Johnny had already filmed most of his scenes so he wasn't around much, but I saw some of his takes and he is brilliant! Perfectly cast.
MW: What would be your next dream acting role?
AB: Gosh, it is hard to choose. I adore the fantasy genre, like "Alice" or "Avatar". It would be a dream to work with Peter Jackson or Darren Aronofsky. But I also love comedy and indie films. Charlie Kaufman writes very cool scripts.
MW: Which actor/actress inspires you the most?
AB: Actors that morph into their characters inspire me the most. I can never predict Cate Blanchett. Her performance as Bob Dylan in "I'm Not There" is sublime. Marion Cotillard, Maggie Gyllenhaal, Daniel (of course!), Sam Rockwell, and Catherine Keener consistantly give true performances.
MW: What is next for Amy Bailey?
AB: Right now I am in love with The Goundlings! I'm doing long-form comedy improv there which is something every actor should try. It basically kills your ego, but that's a good thing 🙂 And it makes every audition you have a breeze 'cause you've pretty much already died a thousand deaths when doing improv. You learn to be comfortable in the so-called "grey area", where you have no idea what is going to come out of your mouth next. Quite liberating. I adore Christopher Guest and his team who put together "Best in Show" and "Waiting for Guffman". How fun to improv an entire film.
Amy Bailey on Style & Beauty Secrets:
I keep my hair beautiful thanks to…
Krill oil capsules and eating sardines. You may say yuck, but you can't beat Omega-3 in your diet for great hair.
My favorite skincare products are…
I do a mix of things. Right now I am loving Ziva toner followed by SK-II Vitamin C serum, then moisturizing with Weleda Wild Rose day cream.
I get my eyelashes looking long, full, and sexy using…
A heated eyelash curler and Lancome mascara.
The best lip-gloss I ever owned…
Was a homemade organic lip balm. Given to me as a gift. I'm almost out and very scrimpy about using the last little bit of it.
My signature fragrance is…
The Body Shop's Pure Rosehip Oil. I like fragrances that smell like real flowers. I can't stand strong stinky perfume.
The one beauty product you will always find in my purse is…
Lip balm. I have a habit of chewing my lips so keeping lip balm on them helps me stop.
Beauty is all about…
It's all about love baby! And it's not corny to say so…we all know those people who are so beautiful because they are brimming with love and joy. Physical beauty is all relative anyway, but most of us can agree on what makes a beautiful personality.
I describe my personal style as…and my favorite fashion designers are…
Well I would call my personal style "vintage" or "eclectic", but I have to admit many of my friends say I dress like a Grandma. I don't know what it is – polyesther prints just move me. Seriously though, I love good tailoring and vintage cuts from the 40's and 50's are so flattering. Alexander McQueen and Zac Posen are 2 of my favorites.
The sound, restaurant, and movie I love the most…
I love the sound Gospel choirs, and of a big, booming, live symphony orchestra. One of my favorite restaurants is "Rules" in London. It is the city's oldest restaurant and it is very posh darling. I love the movie "Goonies". I never get tired of seeing it.
One or two things some people may not know about Amy Bailey…
I have a bright red birthmark on the palm of my hand, and I haven't met anyone else who has one there. I can also play "Oh Susanna" on the harmonica with my nose. No really, my dad does it too.
Talking Makeup would like to thank fabulous Amy Bailey for a brilliant interview. To learn more about Amy visit the Amy Bailey official website!
Average Rating:
4.4
out of
5
based on
221
user reviews.