The following interview was quite a fascinating experience for me. Few weeks ago I was given an incredible chance to chat with Allen Edwards the man who created The Farrah for Farrah Fawcett one of the most famous haircuts of our time. I grew up in Israel watching my mom trying to get The Farrah and even me as a child was dreaming of having that flip and layered cut. It felt like I was writing a piece in history. Farrah left Allen Edwards at one point to another hairdresser called: Jose Eber, who apparently also takes credit for creating The Farrah. But, Farrah Fawcett went to Allen first! Read more.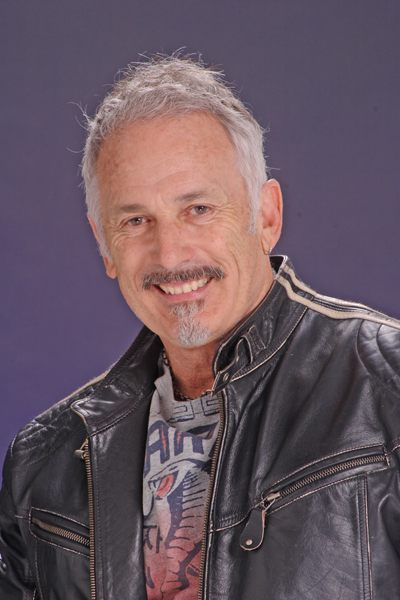 Allen Edwards
For more than three decades the internationally recognized beauty industry icon, Allen Edwards has been styling the tresses of some of the most glamorous women in the world including Farrah Fawcett, Donna Mills, Anne Bancroft, Diane Keaton and Raquel Welch. It was Edwards who fashioned Assistant District Attorney Marcia Clark's new look during the O.J. Simpson murder trial. Modern Salon Magazine recently named Allen Edwards among 50 most influencial hairdressers in history with industry leaders Vidal Sasson, Jose Eber and Sally Hershberger. Also a must read Allen's 200-page memoir: "Shear Force: An Image-Maker's Memoir", released in 2008. The book details the glitzy Beverly Hills beauty industry over the past 30 years and Allen Edwards tumultuous parallel ride through it all.
In this interview Allen Edwards talks to Marta Walsh about his beginnings as a young hairdresser in Beverly Hills. How one day he met Farrah Fawcett and what led him creating The Farrah one of the most famous haircuts of our time . Talks about the changes in hairstyles and celebrities over the years. The celebrity who he would love to style today. His favorite Shear Force products. Gives advice to aspiring celebrity hairstylists. And talks future plans.
Marta Walsh: When did your interest in hair design begin?
Allen Edwards: I was always into the arts side of the world. I was a musician and a dancer from 8 years old till I was 19. I thought that's what I'm going to do. After meeting other musicians I've realized they really didn't make much money. When I got out of high school I quit playing trumpet. Around that time I met some people who went to beauty school. That interested me. Since I quite music and career was always important to me, I decided to go to beauty school. It came really easy to me.
MW: What was your biggest break as a professional hair stylist? How did it all happen?
AE: I was working in a fun little salon in Beverly Hills and doing well when I got out of beauty school. My father used to manage a building and through him I met a young fellow called Jon Peters. Jon was a hot young and up and coming hairdresser at that time and was opening a new salon. We got along, Jon was kind of a wild Rock and Roll guy and I liked that. We met in a nightclub he pulled up with his Corvette with greasy black hair. I wanted to learn from him. It was important for me to connect with a guy like that. I left my clientele in Beverly Hills and I began working in the valley for Jon. The big break came when I began doing Farah Fawcett's hair.
What also kicked my career was being the first hairdresser to go on The Morning Show with Regis Philbin. I was the first hairstylist to appear on TV as an expert guest. I used to show new hair looks on the show. 300 people would call in, it was unbelievable. They didn't used to do makeovers back then, it was all high fashion hair looks. I then began working with hair companies doing big hair shows for 1000 to 5000 people. My background in music and dance helped in coordinating all the shows and cresting a high energy rock hair show. I was one the first hairdressers to do both public TV work and also working with hair companies.
MW: How did you meet Farrah Fawcett?
AE: I used to do Jane Brolin's hair who was Jim Brolin's wife at the time. James Brolin is now Barbara Streisand's husband. Jane brought Farrah Fawcett to me. One day Farrah just walked in and it all started from there. The year was 1974. When she came in her hair was in one length so we started to layer Farrah's hair. She went to Jose Eber after that. Jose apparently tries to take credit for creating the famous Farrah haircut. He really didn't create the Farrah. Jose was always friends with her I think, and somehow he lost her during the famous Charlie's Angels time. I got mad at her for going with Jose and I sort of threw her out the shop.
MW: What inspired you to create one of the most sought after haircuts in hair history?
AE: There wasn't a particular inspiration for creating the Farrah hairdo. Bigger and fuller hair was starting to come in. I was very aggressive with cutting and the long layered hair just evolved from that. I invented blowing hair while dry or the blow curl which no one did at that time. The way you do it is by blow drying hair mostly with a brush and just curling the ends with a smaller brush. Then you clip it and by the time you finish the hair is dry, you take the clips out, turn your head upside down and boom there you have the Farrah. People went crazy over it. The Farrah opened the doors to women with long hair to have a hot look. It was fresh and new because short hair was in for a long time in the 50's and 60's, think Mia Farrow and Jane Fonda. The Farrah was the first famous long haircut. It looked good on every woman.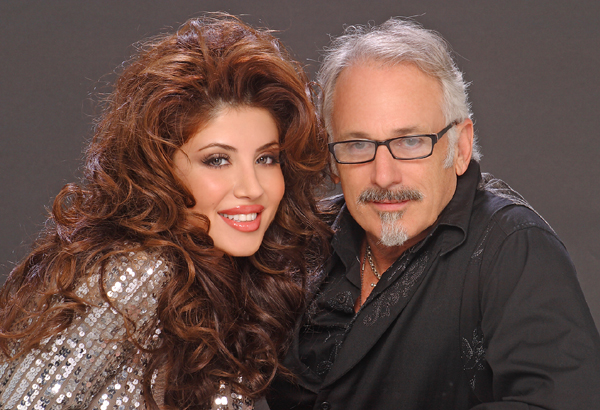 Allen Edwards with Deal or No Deal Lucky #13 Leyla Milani
MW: Which celebrities did you do hair for besides Farrah Fawcett?
AE: I did hair for Raquel Welch, Donna Mills, Rene Russo for the cover of Vogue, Diane Keaton for the cover of TIME, and Marcia Clark during the O.J. Simpson trial.
MW: Which celebrity would you love to style today?
AE: I was always a fan of Cameron Diaz and Gwyneth Paltrow and I would love to cut Katie Holmes hair.
MW: What are some of the changes you have seen in celebrity hairstyles during your long hairdressing career?
AE: As a hairdresser today it's very difficult to create new looks and hairstyles because it was all done before. I came from an era where we used to create new things. Katie Holmes bob has been back 20 times already. Also, Hollywood stars in the past used to keep their hairstyle the same at all times and were afraid to change. Today celebrity hairdos change more often thanks to hair extensions. Hair trends today are driven by A list celebrities. The Jennifer Aniston haircut was the Farrah of the 90s.
MW: What sets your hair care line Shear Force apart from the rest? Which Shear Force products just can't live without?
AE: I wanted to do a hair care line that is natural. Unfortunately you can't do natural in hair styling products but you can do natural with shampoo and conditioner. My chemist found an oil out of Africa called Marula oil which is high in anti oxidants and is extremely nourishing to the hair. It helps rebuilding hair internally and makes it healthy and shiny. The Shear Force hair care products all have a purpose. The Shear Force Thickening Spray increases the hair diameter makes it thicker and fatter. This helps women with thin hair. Also my favorites are the Shear Force Polishing Serum and the Texture Defining String pomade. I like to mix the polishing serum and mix it in the pomade can, it makes hair shiny yet gives it a funky texture.
MW: What are some of your favorite hair trends?
AE: I see fuller hair, bigger hair, more body to hair, more glamorous waves, and staying away from the flat iron. Think, Lauren Bacall.
MW: What advice can you give anyone who is interested in a career as a celebrity hairstylist?
AE: Not to be afraid to take chances, be like an open book and learn new things. I find most hairdressers to not be open and to have a big ego. They tend to stick to one cutting or styling technique they feel they know best. Don't say: "I don't do that." Probably if you say it it's because you don't know how to do it. Always take care of your client. Learn to communicate well. Be creative. No matter how long the client was going to you create something new for them. If you're interested in becoming a famous hairdresser or a celebrity hair stylist take photos of the different hairstyles you've created and send them to hair or style magazines or beauty blogs. Get people see what you do. Set yourself goals and work on achieving them. You will have to start at the bottom. You just have to do it and expect to do hard work.
MW: What is your philosophy about hair and beauty?
AE: Every woman deserves the right to be beautiful and it's up to us hairdressers to bring that out.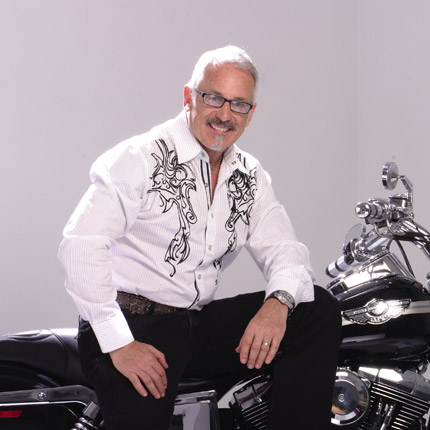 MW: What is your favorite: city, restaurant, movie, and car?
AE: My favorite city is Los Angeles, I like a good steak restaurant, and I love to ride motorcycles. I ride everyday almost.
MW: What's next for Allen Edwards?
AE: I would like continue to do Shop NBC with my hair care line Shear Force. I'm working on my own reality show. I would also like to create a chain of Shear Force salons. And then I like to take a vacation somewhere.
You can find "Shear Force" with Lorin Shields-Michel book at Allen Edwards Salon + Spas, amazon.com, Barnes & Noble and gift stores nation wide.
To learn more about Allen, Shear Force, and for the Allen Edwards Salon + Spas locations visit: www.allenedwards.com
Deal Or No Deal Lucky #13 Gets Lucky With Allen Edwards
Average Rating:
4.9
out of
5
based on
292
user reviews.